October menu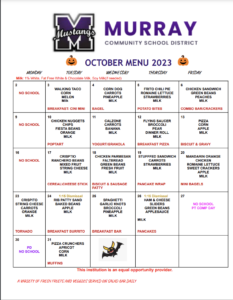 ---
Meal Prices
Breakfast
Lunch
Preschool – 5th Grade
$1.95
$2.75
6th – 8th Grade
$1.95

Double additional $1.95

$2.80

Double additional $2.80

9th – 12th Grade
$1.95

Double additional $1.95

$2.85

Double additional $2.85

Adults
$2.30
$5.00
Reduced
$0.30
$0.40
Afternoon milk $.50 and extra milk at meals
---
Afternoon Milk is available to children grades K-2

A la carte snack items and double meals are available to students grade 6-12
Please make sure if your child is going to take advantage of one of these options to please fill out the a la carte form at registration and make sure that there is money in their lunch account. This also includes Sack Lunch Milks.
Free and Reduce meal applications are available at any time in the Office.
---
2021-2022 Notices
Nationwide Waiver
Congress and Secretary of Agriculture Sonny Perdue passed a nationwide waiver that allows us to offer a FREE breakfast and lunch to all enrolled Murray CSD students. (This doesn't cover any sack lunch milk, afternoon milk, or a la carte, smart snack, and double meal purchases). Double Meals and Snack Cart
All Double meals, and Snack Cart items, will be BEGIN October 1st. Please make sure you discuss this with your JH/HS child and have the appropriate funds and paperwork available for this.
Virtual School Meals
We are offering meals to those that are utilizing the virtual schooling option. Please fill out the Take Home Meal Request form to request this option.
---
Additional Resources
USDA Nondiscrimination Statement